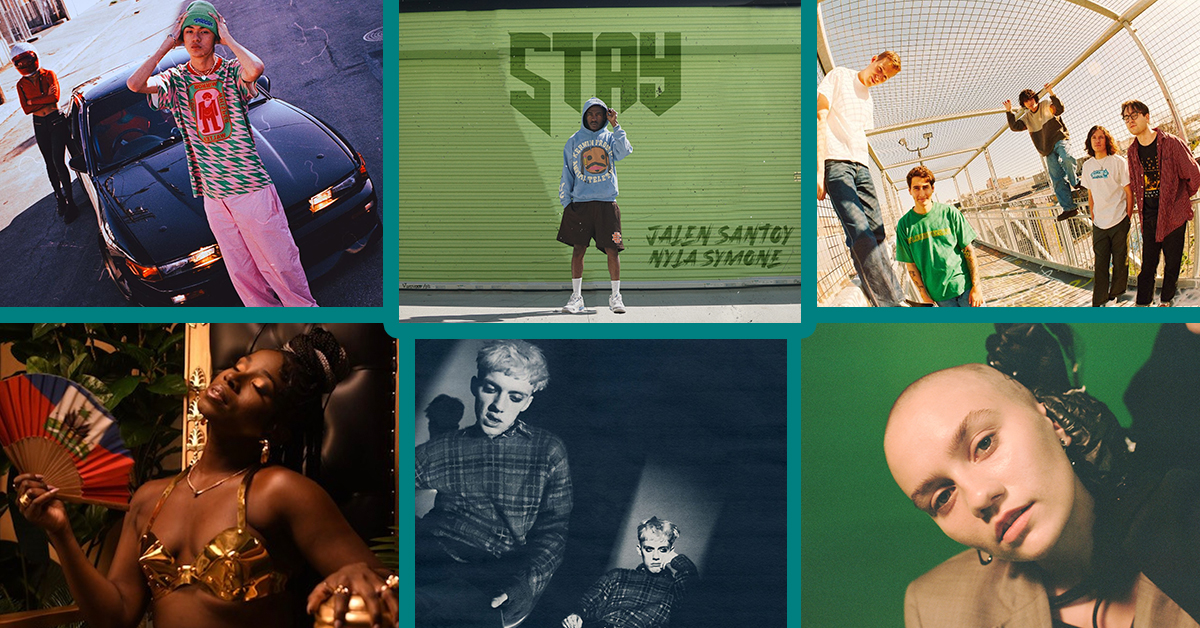 Jalen Santoy, Caspr, TeaMarr: Tuesday slopes
Jalen Santoy's jazzy nature, Anxious emo vibes, TeaMarr's sultry vocals, Caspr's guitar melody, Carlie Hanson's pop-punk take, and Warren Hue's tongue-in-cheek trap make for the best songs of the week. .
Anxious, "In April" – Connecticut band Anxious announced their debut album, Little Green House, alongside this new single. This is great listening if you are in the middle or at the end of an emo phase. Anxious combines' 90s alternative rock motifs with all the essentials of emo along with a fast tempo, strong vocals and an anthemic bridge that leaves listeners with the song stuck in their heads for days.
***
TeaMarr with Meer Colon, "Show Me Love" – ​​The latest track from TeaMarr expresses the feeling of meeting someone new and the curiosity to learn all about them. Meer Colon's verse touches all of the feelings that come with trying to figure out if a relationship is going to be another talking point or something more serious. And the breath of TeaMarr's voice adds to the song's sultry nature.
Jalen santoy with Nyla symone, "STAY" – Jalen Santoy and Nyla Symone reunite on "STAY," which talks about the importance of letting relationships take their course instead of trying to force growth and timing. The track reflects the influences of jazz in Santoy's life. Its verses have a kind of effortlessness that is present in very good jazz music. It is enhanced with a tropical touch by a soft guitar as well as a few hand claps.
***
Caspr, "Don't Make Sense" – Poppy singer-songwriter Caspr's latest track takes the acoustic route with a melody on the guitar. He sings about how much he misses his ex and wishes he could change the things he said. It's a song that a lot of people can relate to if they've been through a relationship that ended badly.
Carlie Hanson with Deb never, "Snot" – Carlie Hanson's final track is a deep dive into his emotional state after a girlfriend leaves home. The track stays true to its pop-punk roots with Auto-Tuned vocals, electric guitars and a rhythmic bassline. It's a beautiful song to scream with the lyrics.
***
Warren hue, "WEST" – This is the first track from Warren Hue's upcoming project, Boy of the year. The Indonesian rapper wrote it about his experience living in Los Angeles. The groovy trap song isn't meant to be taken too seriously. Hue says he was inspired by Lil Uzi Vert and that's clear on "WEST," with Auto-Tuned high-pitched vocals sprinkled throughout.
Aarushi's choice: My favorite track is "STAY" by Jalen Santoy and Nyla Symone. The song immediately reminded me of summer, which is all the more appreciated as the weather gets colder and the days get shorter and shorter here in Chicago. I feel like I'm spending a day at the beach with my friends. I have really enjoyed Jalen Santoy's music for a few years now and I always look forward to whatever comes out.
Follow Aarushi Nanda To Twitter.com/aarushi_nanda.